Table of Contents
Etsy is a booming online marketplace where you can buy or sell vintage goods, handmade goods, arts and other crafty products. Many who sell on Etsy are artists, designers, or makers. If you have set up a storefront on Etsy, you might wonder what intellectual property (IP) rights you have or how you can protect your products from infringement. This article will explore copyright protection and whether you can rely on copyright to protect your products on Etsy.
What is Copyright?
Copyright refers to the intellectual property right that protects original creative works in their material form. Importantly, ideas are not protected by copyright. Instead, the material expression of the ideas will be afforded copyright protection.
Copyright affords exclusive and assignable legal rights to the:
author;
creator; or
the originator of an original creative work.
Some examples of these rights include the right to:
publish;
perform;
reproduce;
print;
adapt; or
otherwise, communicate that work to the public.
What Works Receive Copyright Protection?
The types of creative or original works that receive copyright protection include:
artistic works such as paintings, drawings, sculptures, engravings or photographs (it will vary whether or not the work is of an artistic quality);
literary works such as books, novels, poems and also computer programs;
dramatic works such as a choreographic show or a script for a film;
musical works; and
other works such as films, poems, broadcasts, sound recordings and published editions of literary, dramatic, musical or artistic works.
Continue reading this article below the form
Need legal advice?
Call 1300 544 755 for urgent assistance.
Otherwise, complete this form and we will contact you within one business day.
Does Copyright Protect My Products on Etsy?
The products most likely to be sold via Etsy that will have copyright production will fall into the category of artistic work. For example, if you create ceramic sculptures and sell them on Etsy, you will own the copyright to the artistic work, which is the sculpture. Further, the images you take of the products you post onto your Etsy store will also receive copyright protection.
If the item you sell on Etsy does not fall into one of the categories or creative or original works above, copyright will unlikely apply. Nevertheless, there may be different considerations depending on whether you have made the item yourself or if you are reselling an item.
Copyright exists separately from the physical work. This means the sale of the work does not automatically include the copyright unless the copyright owner has agreed to assign their rights to you or there has been an agreement to that effect. As such, the copyright owner may differ from the person who owns the painting or the work sold on Etsy.
Are There Restrictions for Copyright Material?
In Australia, there are generally no restrictions on selling second-hand copies of copyright material, provided the copy that is being sold was initially produced and acquired lawfully. However, it would help if you were careful about what goods you acquire and how you resell them. Therefore, you should always give credit to the original copyright owner.
Copyright Ownership in Commissioned Works
If you are an artist that sells commissioned works via Etsy, then it is important to understand how copyright may apply to those works. If a person pays you to create a work for a private or domestic purpose, the commissioner owns copyright in the commissioned work. You can modify this through a written agreement between the creator and the person commissioning the work.
However, the artist will retain moral rights that cannot be transferred or waived. These include the right to be attributed as the work's creator and the right to object to any derogatory treatment of the artwork.
Enforcing Your Copyright on Etsy Australia
Etsy Australia's Intellectual Property Policy came into effect on 1 December 2022. This policy outlines how Etsy Australia deals with allegations of intellectual property infringement, including copyright infringement. It also outlines the steps that Etsy Australia may take if there is an incident of copyright infringement that is reported to them.
The onus is on the sellers to ensure they have all the necessary rights to their content and they are not infringing or violating any third-party rights by posting material on their Etsy store. However, Etsy Australia has implemented a reporting system wherein cases of alleged copyright infringement can be reported to Etsy Australia for review and action.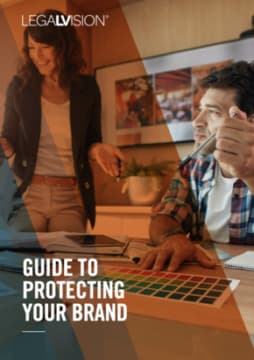 Guide to Protecting Your Brand
Your business' brand represents your values, identity and reputation. Learn how to create a successful brand and protect it.
Download Now
Key Takeaways
You may enjoy copyright protection on the products you sell on Etsy depending on their nature. For instance, copyright can protect your product if it is an original artistic, literary, dramatic or musical work you have created or authored. The images you may take of your products and upload onto your Etsy store are also protected by copyright. If what you sell on Etsy is not an original artistic, literary, dramatic or musical work you have created, it may not be protected by copyright. However, this can be complex, and you should seek legal advice if you need more clarification.
If you have any further copyright questions, our experienced intellectual property lawyers can assist as part of our LegalVision membership. For a low monthly fee, you will have unlimited access to lawyers to answer your questions and draft and review your documents. Call us today on 1300 544 755 or visit our membership page.
Frequently Asked Questions
What is copyright?
Copyright is an intellectual property right that protects original creative works in their material form. Importantly, ideas are not protected by copyright. Instead, copyright will protect the material expression of the ideas that will be afforded copyright protection.
What types of work are protected by copyright?
Original creative works are protected by copyright. For example, literary, musical, artistic, or dramatic works such as music, books, films or paintings.
Was this article helpful?
Thanks!
We appreciate your feedback – your submission has been successfully received.