Table of Contents
If you have created something, you might wonder whether it can be protected under copyright law. Alternatively, perhaps you know your material is protected under copyright law, but you are unsure what the next steps (if any) are to confirm that protection in Australia. This article explains how copyright protection works in Australia.
What is Copyright?
Copyright is a type of intellectual property that protects original works of authorship. Importantly, copyright protects the expression of original ideas but does not protect the ideas themselves. That is to say, copyright will only apply where the ideas have been materialised into a tangible or electronic form.
Copyright gives exclusive rights to creators to manage how their content or creations can be:
used;
reproduced;
published;
performed;
communicated;
distributed; or
adapted.
What Copyright Law Protects
Broadly speaking, copyright protects:
works; and
subject matters other than works.
The types of works that copyright law protects include:
literary works, such as poems, lyrics, journal articles, novels, compilations and computer programs;
dramatic works, such as screenplays, plays, and choreography;
musical works, which refers to the music itself that is separate from the lyrics or the recordings; and
artistic works, such as paintings, drawings, sculptures, architectural and building plans and photographs.
The types of subject matters other than works that are protected under copyright include:
sound recordings;
films;
broadcasts; and
published editions of works.
However, these criteria may not always apply to subject matters other than works, such as films or published editions of works. If unsure, it is best to speak to an intellectual property lawyer.
Continue reading this article below the form
Need legal advice?
Call 1300 544 755 for urgent assistance.
Otherwise, complete this form and we will contact you within one business day.
What Copyright Law Does Not Protect
If what you have created does not fall into one of the categories above, copyright does not likely apply to the type of material you have created.
If you only have an idea for a poem, novel, or artwork, you cannot rely on copyright law to protect it. This is because copyright protects the material expression of those ideas. Therefore, the idea must be expressed in some material form.
How Do I Protect My Intellectual Property Through Copyright in Australia?
In Australia, copyright protection is automatic. That is to say, as soon as you create a work, write it down or record it in some way, copyright will attach to the work. But, the creation must be a work or subject matter that copyright can protect. For example, if you write an original poem down on a napkin with a pen, copyright will arise automatically, and your work will be protected.
Hence, there is no system or process that you must follow to apply for or register copyright in Australia. As such, copyright is considered an unregistrable type of intellectual property.
How Long Does Copyright Last For?
Generally, copyright will last for the author's life and 70 years after the author's death.
What Do I Do If Someone Infringes My Copyright?
Copyright prevents others from claiming your work as their own. It also gives you the right to take legal action against someone who uses your work without your permission, as they may be infringing your copyright. However, it is essential to note that copyright law does not prohibit every unauthorised use of a work. Hence, you should speak to a lawyer if you think someone infringes on your copyright.
It is essential to ensure that a person stops using your material without permission. Initially, you could send a cease and desist letter to the infringer. In this letter, you should state your rights and demand that the person stop the infringing conduct.
If this is unsuccessful, you may consider initiating legal proceedings against the infringer and taking the matter to court.
Can I Use Someone Else's Work?
If you wish to use someone else's copyrighted work, you must first seek permission from the creator. It would help if you considered whether the work is protected by copyright law and whether the owner of the material has indicated how you may use the work.
For example, a creator of a particular type of stylised font may authorise the use of that font to others in exchange for a fee. If you download or use the font in your branding without authorisation from the owner, you may engage in infringing conduct.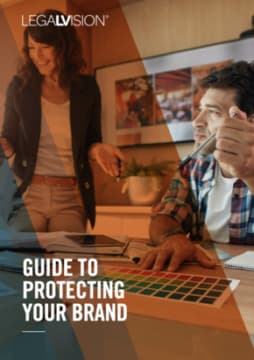 Guide to Protecting Your Brand
Your business' brand represents your values, identity and reputation. Learn how to create a successful brand and protect it.
Download Now
Key Takeaways
Copyright is an automatic right attached to original pieces of literary or artistic work. There is no registration system or process for copyright protection in Australia. Therefore, once you have expressed your idea in writing or some other tangible or electronic form, copyright will attach to your work.
If you have any questions about your intellectual property rights, our experienced intellectual property lawyers can assist as part of our LegalVision membership. You will have unlimited access to lawyers to answer your questions and draft and review your documents for a low monthly fee. Call us today on 1300 544 755 or visit our membership page.
Frequently Asked Questions
What is copyright?
Copyright refers to the automatic protection of the expression of original ideas. The ideas themselves are not protected by copyright. Instead, it is the material expression of the ideas that copyright protects.
Do I need to apply for copyright protection in Australia?
No. In Australia, copyright protection arises automatically for original pieces of work. There is no application process or registration system to obtain copyright protection.
Was this article helpful?
Thanks!
We appreciate your feedback – your submission has been successfully received.