Table of Contents
Carbon credits are becoming increasingly popular for landholders seeking to generate additional income by setting up projects that avoid or remove greenhouse gas emissions. In Australia, the ACCU Scheme (formerly known as the Emissions Reduction Fund) was established to provide a voluntary carbon market in which those who operate such projects, known as "Project Proponents", could be issued an Australian Carbon Credit Unit (ACCU) for every tonne of carbon dioxide equivalent stored or avoided by that project. These ACCUs could then be sold to the Clean Energy Regulator, the government entity responsible for the ACCU Scheme, or privately to companies and other buyers in the secondary market.
This article explains the steps you might take to participate in the ACCU Scheme. Suppose you are considering applying to register a project under the ACCU Scheme. In that case, you must seek legal advice before doing so, as you will have many obligations under the law, including, in some instances, maintaining the project for up to 100 years.
1. Identify the Project Proponent
The Project Proponent is the person responsible for carrying out the project. This is often the landholder, as they have the legal right to conduct activities on the land.
It is important to carefully consider who will act as the project proponent, as they will be issued all the ACCUs the project creates. Furthermore, this person is legally responsible for meeting the obligations under the law. If the project proponent fails to meet their legal obligations, the consequences can be severe, including:
revocation of the project;
having to return the ACCUs generated by the project to the Clean Energy Regulator (which may require buying new ACCUs to replace ones already sold);
civil penalties; and
criminal proceedings.
2. Check if the Project is Eligible for Registration
Not all projects are eligible for registration. There are several requirements you must meet to be eligible, including that the project must:
be new;
be carried out in Australia; and
not required to be carried out by law or any Government program.
More importantly, the project must fall into one of the eight industry categories, including:
carbon capture and storage;
energy efficiency;
landfill and alternative waste treatment;
mining;
agriculture;
savanna fire management; and
vegetation.
Within each industry category is a list of eligible methodologies, and your project must meet at least one. For example, suppose your business helps to reduce emissions by improving the energy performance of buildings that are rateable under the National Australian Build Environment Rating System (NABERS). In that case, you may be eligible in the Energy Efficiency category under the Commercial Buildings methodology.
You must obtain legal advice on the eligibility of your project to be registered. Furthermore, you must do this before undertaking any activities relating to your project.
Continue reading this article below the form
Need legal advice?
Call 1300 544 755 for urgent assistance.
Otherwise, complete this form and we will contact you within one business day.
3. Register the Project with the Clean Energy Regulator
Once you have confirmed that your project is eligible for registration, you may apply to the Clean Energy Regulator online. The Clean Energy Regulator attempts to decide applications within 90 days unless further information is required.
4. Open an Australian National Registry of Emissions Units Account
You will need an Australian National Registry of Emissions Units (ANREU) Account to receive ACCUs generated by the project from the Clean Energy Regulator and transfer them to third parties. You must make an application to open an ANREU Account before the first project reporting deadline. We recommend starting this process when you apply to register your project.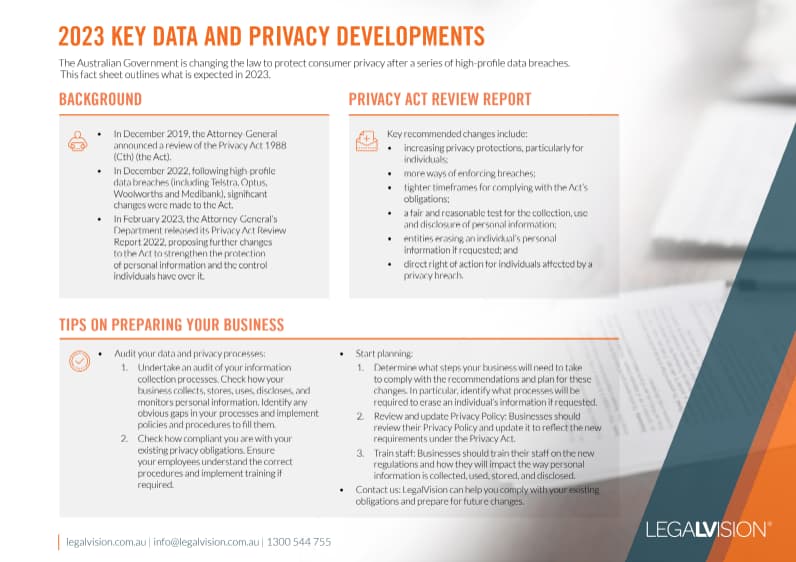 2023 Key Data and Privacy Developments
This fact sheet outlines the changes to data and privacy protection in 2023.
Download Now
5. Apply to Claim Australian Carbon Credit Units
If you have made it to this step, then that means your project was eligible and successfully registered. The methodology you registered under will set out the reporting period for your project. At the end of each reporting period, you must submit a report to the Clean Energy Regulator detailing the amount of greenhouse gas emissions your project avoided or removed. This report will support your application for ACCUs. Sometimes, you may need an independent auditor to independently review your report.
Once the Clean Energy Regulator has issued the ACCUs to your ANREU Account, you may choose to either:
hold onto them;
sell them to the Australian Government (via a contract with the Clean Energy Regulator); or
sell them to a private buyer, such as a company or individual.
Depending on your buyer, you may be required to hold an Australian Financial Services Licence. We recommend you speak to a lawyer to confirm whether this requirement applies.
Key Takeaways
The ACCU Scheme incentivises landholders to generate additional income from Australian Carbon Credit Units through projects that avoid or remove greenhouse gas emissions. However, you must comply with many legal obligations if you run such a project. Moreover, there are many technical and legal requirements to register a project with the Clean Energy Regulator successfully.
If you want to know more about the ACCU Scheme or carbon credits, contact our experienced greentech lawyers as part of our LegalVision membership. For a low monthly fee, you will have unlimited access to lawyers to answer your questions and draft and review your documents. Call us today on 1300 544 755 or visit our membership page.
Was this article helpful?
Thanks!
We appreciate your feedback – your submission has been successfully received.