What Are My Employee's Post-Employment Obligations?

Updated on May 11, 2022
Reading time: 5 minutes
When an employee leaves your business, it is vital to keep them in the loop about their post-employment obligations. Ensuring they understand these obligations can help prevent future issues and disputes. For example, an employee may be obligated to return property or delete confidential information. This article will discuss typical post-employment obligations that you should effectively communicate to your leaving workers.
What Does 'Post-Employment' Mean?
Post-employment obligations are any obligations that continue beyond the term of employment. These obligations exist regardless of whether an employee resigned or you terminated their employment for another reason (such as redundancy).
An employment agreement will set out most of an employee's post-employment obligations. In particular, there are two types of obligations:
indefinite obligations: These responsibilities continue indefinitely and often include confidentiality and intellectual property (IP) obligations; and
ongoing obligations: These responsibilities have a set time period, such as non-compete or non-solicitation restraint clauses.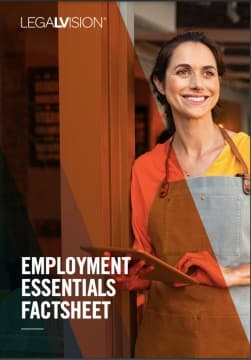 Employment Essentials Factsheet
As an employer, understand your essential employment obligations with this free LegalVision factsheet.
Download Now
Return of Property
Typically when an employee leaves your business, it is appropriate to require themto return any business property or equipment. For example, company property might include laptops, mobile phones, or other equipment.
Sometimes, you can also ask employees to present their personal phones or other devices they used during their employment. However, you should only ask to do this if necessary. For example, you would only use an employee's personal phone to remove any confidential business information and return the phone to the employee. Alternatively, you may also ask your employee to do this themselves.
Confidentiality Obligations
Confidential information is information that is not in the public domain. For example, this information includes:
trade secrets;
pricing information;
client details; or
other commercially sensitive information.
Additionally, your employees typically owe three key confidentiality obligations to your business even after their employment ends.
1. Contractual Obligations
Employment agreements can include confidentiality obligations that apply during and after employment. These may set an onligation to:
not disclose any confidential information gained through employment to third parties, and
return any confidential information your employee possesses when they end employment.
2. Legal Obligations

If an employee's contract does not include a confidentiality clause, they may still owe you confidentiality obligations arising from your employment relationship. These duties are called 'common law duties.' Australian Law also provides statutory responsibilities for employees, regardless of contractual terms. Your employees should not personally benefit from information gained during their employment, especially to your or your business' detriment.
3. IP
Generally, you or your business will own all IP your employees create during and in connection with their employment. An exception is if the employment contract states otherwise. Any IP that employees have access to during employment (such as reports or templates) also remains your property.
Post-Employment Restraints
A restraint of trade clause restraint clause typically contains three components that work together:
1. Nature of Restraint
The substance of a restraint clause can vary in its specifics. They may take the form of:
non-compete clauses stopping ex-employeesfrom working in a competing business;
non-solicitation clauses concerning clients and suppliers;
non-solicitation clauses concerning employees and contractors; or
a clause stopping an ex-employee from helping a third party to do any of the above.
A non-solicitation clause is a provision that does not allow existing and previous employees from 'persuading' or 'enticing' your customers, employers, and suppliers to end their professional relationship with you.
2. Restraint Area
This part of the clause sets out what geographical areas where the restraint clause applies. For example, employees may work in a competing business in New South Wales, but not in Victoria.
Usually, the clause can set out the restraint area in a cascading manner, from a larger geographical region to a more specific (e.g. "New South Wales, Sydney, and Surry Hills"). This way, in the event of a dispute, the court can decide on the most appropriate restraint area depending on the circumstances.
3. Restraint Period
This clause sets out how long the restraint clause will operate. Restraint clauses are very unlikely to be enforced indefinitely. Restraint Period clauses should outline the restraint period in a cascading manner (e.g. "12 months, 6 months, and 3 months").
Imposing Additional Obligations After Termination
Although you can ask your employees to sign a document or letter which includes additional post-employment obligations, your employees are not obligated to sign this.
They might consider agreeing to any additional post-employment obligations if you are:
offering some sort of benefit or additional financial incentive; or
settling a dispute.
Key Takeaways
As an employer, your employees have certain post-employment obligations. It is critical to have these clauses in place when they are signing their initial employment contracts to avoid future issuesd.
If you would like assistance drafting any post-employment obligations or employment agreements,  our experienced employment lawyers can assist as part of our LegalVision membership. For a low monthly fee, you will have unlimited access to lawyers to answer your questions and draft and review your documents. Call us today on 1300 544 755 or visit our membership page.
Frequently Asked Questions
What is a post-employment obligation?
Post-employment obligations set out an employee's requirements after termination or resignation. These obligations can include returning property, confidentiality obligations, and intellectual property obligations.
What is a post-employment restraint?
A post-employment restraint typically limits employees from working in certain areas or industries after their employment with you ends. These are dormant clauses unless you decide to activate them and enforce them.
Day in Court: What Happens When Your Business Goes to Court
Thursday 2 June | 11:00 - 11:45am
Online
If your business is going to court, then you need to understand the process. Our free webinar will explain.
Register Now
How to Manage a Construction Dispute
Thursday 9 June | 11:00 - 11:45am
Online
Protect your construction firm from disputes. To understand how, join our free webinar.
Register Now
Startup Financing: Venture Debt 101
Thursday 23 June | 11:00 - 11:45am
Online
Learn how venture debt can help take your startup to the next level. Register for our free webinar today.
Register Now
Was this article helpful?
Thanks!
We appreciate your feedback – your submission has been successfully received.
About LegalVision: LegalVision is a commercial law firm that provides businesses with affordable and ongoing legal assistance through our industry-first membership.
By becoming a member, you'll have an experienced legal team ready to answer your questions, draft and review your contracts, and resolve your disputes. All the legal assistance your business needs, for a low monthly fee.
Need Legal Help? Submit an Enquiry
If you would like to get in touch with our team and learn more about how our membership can help your business, fill out the form below.
Read other articles by Prashana
<!-/- Related Articles - Item -/->